Explore the Glamorous World of Celebrity Reality TV Anytime, Anywhere
The entertainment landscape is about to witness a groundbreaking shift with the much-anticipated launch of the Gossip Stone TV iOS app, now available for download on the App Store. As a platform dedicated to offering an unfiltered glimpse into the lives of celebrities through an array of captivating reality shows, Gossip Stone TV has taken a giant leap forward by making its content accessible at the touch of a button.
Boasting a meticulously crafted design that marries aesthetics with functionality, the Gossip Stone TV iOS app promises an immersive viewing experience that is both visually appealing and user-friendly. Users will find themselves navigating through an intuitive interface that opens the doors to a realm of glitz, glamour, and real-life drama.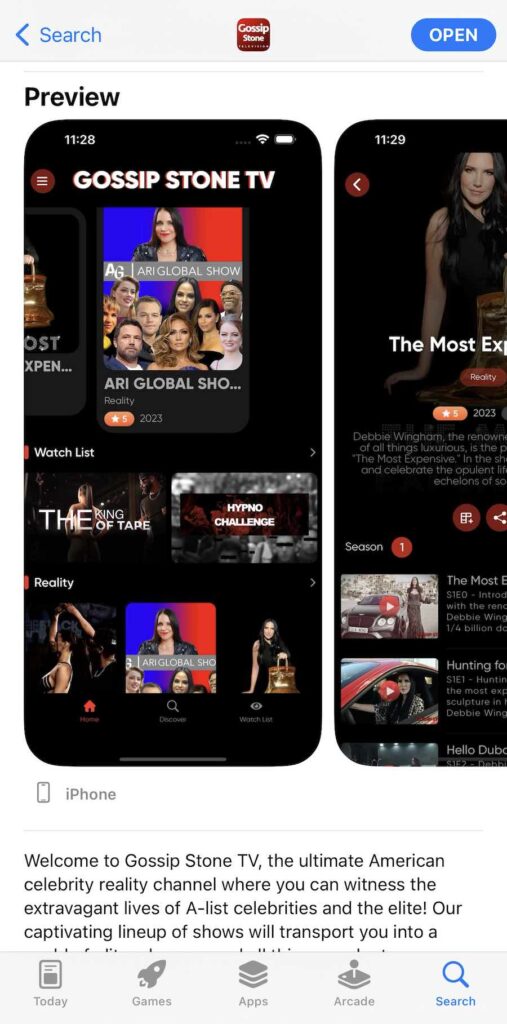 At the core of Gossip Stone TV lies its identity as an American celebrity reality TV channel. With a commitment to delivering engaging content that resonates with audiences, Gossip Stone TV has managed to captivate viewers around the world. The best part? The channel can be enjoyed without any subscription fees, making it an accessible entertainment avenue for individuals from all walks of life.
Multiple Platforms, Global Reach
The accessibility of Gossip Stone TV extends beyond the newly launched iOS app. Viewers can also catch their favorite reality shows on Amazon Fire TV, Roku TV, and Apple TV, ensuring that the content is available on platforms that seamlessly integrate with viewers' preferences. The channel's availability on such diverse platforms showcases its commitment to reaching a wide audience, and its presence on the iOS App Store further cements its place in the digital entertainment sphere.
Gossip Stone TV's reach is nothing short of impressive, with an estimated potential viewership of over 200 million households spanning the globe. From North America to Europe, Asia to Australia, the channel's influence knows no boundaries. Audiences from various cultures and backgrounds can come together to indulge in the allure of celebrity lives, making Gossip Stone TV a cultural phenomenon in its own right.

A Glimpse into Extravagance
The allure of celebrity lifestyles has always held a captivating fascination for audiences. Gossip Stone TV's programming allows viewers to witness firsthand what it's like to live a life of extravagance, where opulent parties, luxurious vacations, and the challenges of stardom are all part of the package. By offering an intimate perspective on the lives of celebrities, the channel bridges the gap between the screen and reality, enabling viewers to feel more connected to their favorite stars.
Going Global and Beyond
The journey of Gossip Stone TV has taken a remarkable global trajectory. The channel's expansion has not only transcended borders but also ventured into new territories. With strategic partnerships established in the Middle East and Africa, Gossip Stone TV has solidified its status as a global entertainment entity. The shared fascination with celebrity culture knows no geographic boundaries, and Gossip Stone TV's expansion into these regions is a testament to its universal appeal.
In conclusion, the launch of the Gossip Stone TV iOS app marks a significant milestone in the realm of entertainment. With its beautifully designed interface, commitment to free accessibility, and global reach, the channel continues to redefine the way we consume celebrity reality TV. As viewers tune in to experience the glitz and glamour of the celebrity world, Gossip Stone TV remains at the forefront of delivering engaging and captivating content that transcends cultures and resonates with audiences worldwide.